Tuesday, December 14, 2021 – Holiday Dinner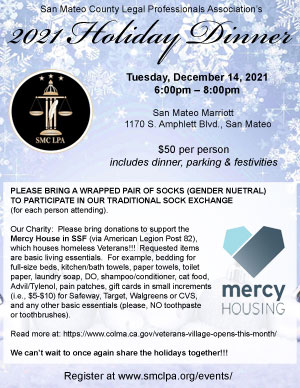 6:00pm – 8:00pm
San Mateo Marriott
1170 S. Amphlett Blvd., San Mateo
$50 per person
includes dinner, parking & festivities
PLEASE BRING A WRAPPED PAIR OF SOCKS (GENDER NUETRAL) TO PARTICIPATE IN OUR TRADITIONAL SOCK EXCHANGE (for each person attending).
Our Charity: Please bring donations to support the Mercy House in SSF (via American Legion Post 82), which houses homeless Veterans!!! Requested items are basic living essentials. For example, bedding for full-size beds, kitchen/bath towels, paper towels, toilet paper, laundry soap, DO, shampoo/conditioner, cat food, Advil/Tylenol, pain patches, gift cards in small increments (i.e., $5-$10) for Safeway, Target, Walgreens or CVS, and any other basic essentials (please, NO toothpaste or toothbrushes).
We can't wait to once again share the holidays together!!!
Tuesday, January 18, 2022 – Nutritional Therapy: Healthy Body, Healthy Mind
Tuesday, January 18, 2022
Social begins at 6:00pm
Meeting starts at 6:30pm
Presentation will begin at approx. 7:00pm
San Mateo Marriott
1170 S. Amphlett Blvd., San Mateo
$45 per person
includes dinner & parking
Note: If you have any items you want to donate to the Pot of Gold, please bring something you wish to give away.
Saturday, March 12, 2022 – Bowling
New date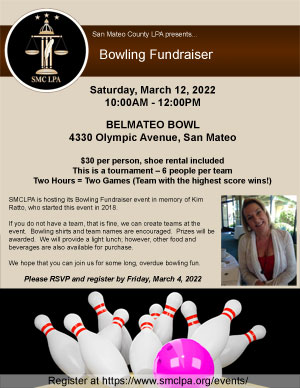 Please fill out a separate form for each participant.
Price: $30.00 + $2.00 online processing fee
SMCLPA is hosting its Bowling Fundraiser event in memory of Kim Ratto, who started this event in 2018.
If you do not have a team, that is fine, we can create teams at the event. Bowling shirts and team names are encouraged. Prizes will be awarded. We will provide a light lunch; however, other food and beverages are also available for purchase.
We hope that you can join us for some long, overdue bowling fun.
Please RSVP and register by Friday, March 4, 2022.
Board Meetings
Board members meet the first Tuesday every month and work hard to plan, prepare, and keep the traditions of the San Mateo County Legal Professionals Association alive.