August 27, 2022 – Pasta and Bingo Night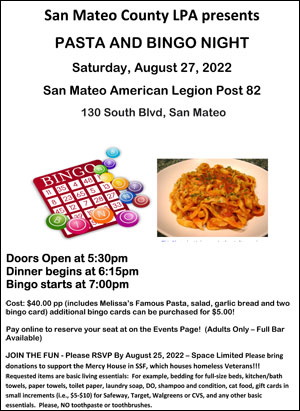 Please fill out a separate form for each participant.
Price: $40.00 + $2.00 online processing fee
(includes Melissa's famous pasta, salad, garlic bread and two bingo cards) additional bingo cards can be purchased for $5.00!
Adults Only – Full Bar Available
Doors Open at 5:30pm
Dinner begins at 6:15pm
Bingo starts at 7:00pm
Please bring donations to support the Mercy House in SSF, which houses homeless Veterans!!!
Requested items are basic living essentials: For example, bedding for full-size beds, kitchen/bath towels, paper towels, toilet paper, laundry soap, DO, shampoo and condition, cat food, gift cards in small increments (i.e., $5-$10) for Safeway, Target, Walgreens or CVS, and any other basic essentials. Please, NO toothpaste or toothbrushes.
Please RSVP and register by August 25, 2022.
Board Meetings
Board members meet the first Tuesday every month and work hard to plan, prepare, and keep the traditions of the San Mateo County Legal Professionals Association alive.