Tuesday, October 19, 2021 – Mock Trial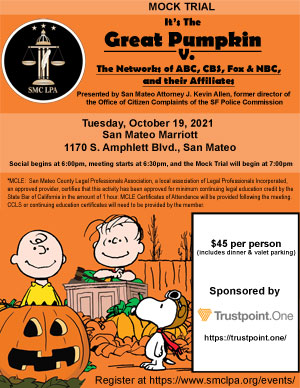 Please fill out a separate form for each participant.
MOCK TRIAL – The Great Pumpkin v. The Networks of ABC, CBS, Fox & NBC, and their Affiliates
Social begins at 6:00pm, meeting starts at 6:30pm, and the Mock Trial will begin at 7:00pm
Where: San Mateo Marriott, 1170 S. Amphlett Blvd., San Mateo
Price: $45.00 + $2.00 online processing fee
Price Includes dinner & valet parking.
Presented by San Mateo Attorney J. Kevin Allen, former director of the Office of Citizen Complaints of the SF Police Commission, was a Deputy Public Defender in San Francisco and now practices out of San Mateo, devoting his practice to defending those accused of committing crimes.
*This is an MCLE-qualified program and a great opportunity to earn your required credits.
Please share with your colleagues.
Thank you to Trustpoint.One for sponsoring this event.
Saturday, October 30, 2021 – Mary L. King Day at the Races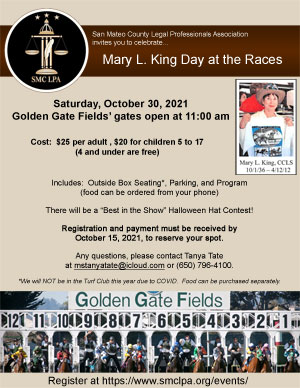 Price:
Adult tickets: $25.00 + $2.00 service fee
Child tickets: $20.00 + $2.00 service fee For children ages 5-7. Children under 5 are free.
Golden Gate Fields' gates open at 11:00 am
Includes: Outside Box Seating*, Parking, and Program
(food can be ordered from your phone)
There will be a "Best in the Show" Halloween Hat Contest!
Registration and payment must be received by October 15, 2021, to reserve your spot.
Any questions, please contact Tanya Tate at mstanyatate@icloud.com or (650) 796-4100.
*We will NOT be in the Turf Club this year due to COVID. Food can be purchased separately.
Saturday, November 6, 2021 – Bowling
Please fill out a separate form for each participant.
Price: $30.00 + $2.00 online processing fee
SMCLPA is hosting its Annual Bowling Fundraiser event in memory of Kim Ratto, who started this event in 2018.
If you do not have a team, that is fine, we can create teams at the event. Bowling shirts and team names are encouraged. Prizes will be awarded. We will provide a light lunch; however, other food and beverages are also available for purchase.
We hope that you can join us for some long, overdue bowling fun.
Please RSVP and register by Friday, October 29, 2021.
Board Meetings
Board members meet the first Tuesday every month and work hard to plan, prepare, and keep the traditions of the San Mateo County Legal Professionals Association alive.